Inaugural Amos Brown Fellowship to
Ghana Registration
The 10-day journey is offered to select participants who would like to pay and attend, from July 31- August 10. We will take a selected number of multicultural college students, young adults, and seminarians between the ages of 18 and 25 from the United States to Ghana for an experiential learning opportunity, at no cost to the students. While there, they will be immersed in Ghanaian culture, learn about the Atlantic Slave Trade, and receive deep insights into their ancestral lineage. At the end of this journey, participants will be able to work together to be agents of change across the United States.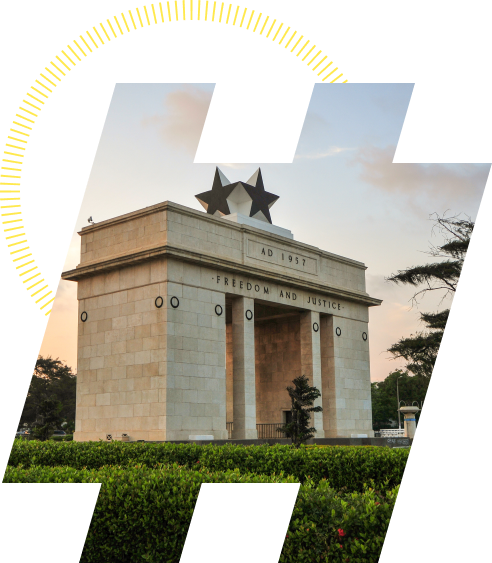 What is included in the Package
Hotel Accommodation (

Kempinski

Hotel Gold Coast City Accra or Movenpick Ambassador Hotel Accra) with Daily Breakfast, Lunch and Dinner
All Transportation which includes Driver with Airport Pickup & Drop-off
Representative that's with the group from start of journey to the end
Entrance fees for all activities on itinerary
Traditional Naming Ceremony
Birthright & Rite of Passage Facilitation
Visa Application and processing or Visa on Arrival in Ghana
Cape Coast Castle Dungeon Experience
All Attractions & Activities per itinerary
African Ancestry Test Kit and Reveal Package
Medical Insurance while traveling through Ghana (local based provider)
Copy of A Smart Ghana Repatriation Guide per traveler
Traditional Ceremonies & Presentations
What is not included in the Package
Extended stay beyond chosen tour package return date
Travel Insurance
Personal Telephone Calls on Hotel Phones, Laundry & Hotel Room Charges
Gratuities (for driver & guides)
Alcoholic Beverages (must be 21)
Souvenirs
Transportation outside of scheduled itinerary
Required travel documents (Passport)
International Economy Round Trip Flight (Unless Add-On is applied to trip, while flights are available)
Events not included in package

COVID 19 PCR or Antigen test - Non needed at this time

Proof of COVID 19 Vaccinations
Single Occupancy
Accommodations
Double Occupancy
Accommodations
Customized Payment plans are available at checkout.